News
It's hot now – but what about winter?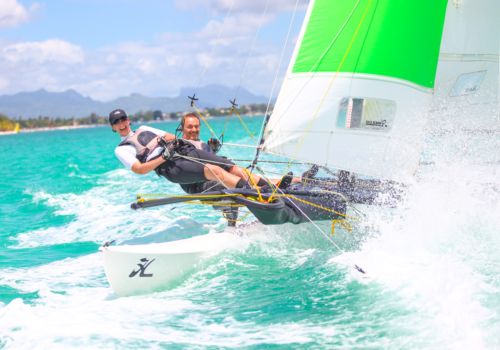 In Northern Europe we have been enjoying the warmest weather in more than 40 years. All over Europe we are making the most of the consistent sunshine and getting out on the water! However, the longest day has now passed, and we are only a couple of months from the start of Autumn. If you are someone who needs a bit of winter warmth and sunshine to break up the long cold winter, then now is a good time to start planning your winter escape. To one of the most exotic locations in the world - Wildwind in Mauritius!
Booking your flights at this time of year is a great way to secure a reasonable price with flights in Mid-December now costing as little as £774 return.

Mauritius is blessed with wonderful year-round temperatures, making it an ideal location to escape from the cold winters of Northern Europe, enjoy the heat of the sun on your body while those at home are shivering. And with a fleet of over 20 boats, attentive instructors and the comfortable Coral Azur hotel right on the beach to stay in there really is no better place to take your well-earned winter break.
Prices start from only £1915 for a 2 week break and if you are able to book before the end of August we are currently offering 10% discount on holidays in October, January, February and March.

Why not take a look at our video here and just imagine yourself lying on the beach mid-winter…
https://www.youtube.com/watch?v=nbpODMiNYe0

"Thank you so much for a great week with Wildwind last week. We loved it all so much…The blend of your staff, the hotel staff and your facilities, weather and non sea-based activities is perfect for a week away. I am impressed, now that I have returned for a second year, to see the same faces at Wildwind, and at the hotel which suggests that your management is keeping everything running smoothly."
Vivienne Hambleton, Administrations Director, St. Constantine's School.