News
What is it that sets Mauritius apart from other tropical Islands?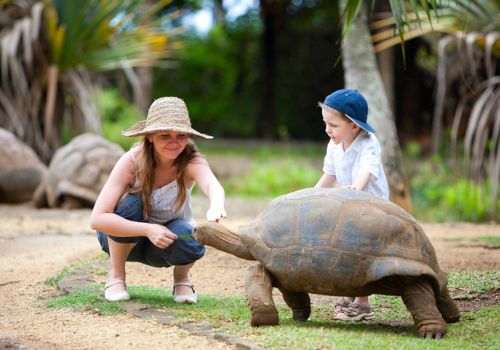 To understand a little of what makes the island so special and unique you have to look at its' unique history and geography. Mauritius is an Island Nation situated in the Indian Ocean about 2000 km off the south east coast of the African Continent. From 1638-1710 Mauritius was a Dutch colony, it later became a French colony (1715 to 1810,) from 1810 it became a British colony and finally in 1968 the islands became an independent nation. During its' colonial past, slaves and indentured labourers were brought to work on the plantations from China, Malay, Africa, Malagasy and India, the descendants of these workers and other European settlers make up a large part of the multi-ethnic, multi-religious, multilingual and multicultural population today. Because of its extraordinary past Mauritius is the only country in Africa where Hinduism is the largest religion.
Due to its isolated location, Mauritius has a relatively high proportion of plants and animals that are simply not found anywhere else in the world. For example, Mauritius was home to the famous flightless bird - The Dodo, before it's extinction. Today its rare endemic species are threatened by the development of the islands and the introduction of foreign species. The Mauritian Forestry Service and the National Parks Conservation service are working hard to preserve the rare plants and animals of Mauritius and the local wildlife parks and tours like Casela give tourists the chance to meet these rare species whilst making a valuable contribution towards their preservation. On the islands you can find giant tortoises and rare bats as well as an array of rare and colourful plant life.
In addition to the wildlife on land, the marine life that surrounds the islands is equally rich. The island of Mauritius is almost completely encircled by coral reef meaning that there are ample opportunities for snorkelling and diving. Mauritius is well known for its' beautiful beaches and the surrounding reefs provided sheltered and calm lagoons for bathers, snorkelers and watersports enthusiasts to enjoy.
If you are expecting an island filled only with 5 star luxury gated developments, then you will be disappointed. Mauritius has a much more authentic and local feel that allows you to absorb and enjoy some the local culture. The extraordinary blend of cultures on Mauritius makes for some very interesting cuisine! In the Hotel Coral Azur where Wildwind is based you can sample food from all over the world. The hotel showcases some of the best the island has to offer through its' themed nights which feature Mediterranean, Mauritian, Indian & Chinese delights as well as catering for those who have special dietary requirements.
Perhaps because of the fact that Mauritius is a relatively a fair and democratic society with economic and political freedom - the people of Mauritius seem contented with life and when you arrive on their island, they are keen to share the joy. You can expect a very warm welcome from the local people which really adds to the feel good factor of this holiday paradise.
At Wildwind we love the laid back and friendly feel of the island. As soon as you step off the plane it is as if the world has slowed right down and you have no choice but to join it! After the hysteria of Christmas preparations, parties and deadlines, Mauritius is the perfect antidote to the fast pace of life in Northern Europe.
If you are looking to take a break from the fast pace of life in Northern Europe and you would like to catch some much needed winter sun whilst exploring this rare island paradise, check out some of the amazing prices for direct flights available this winter.
More News
What is it that sets Mauritius apart from other tropical Islands?